Just about everybody knows that flossing on a regular basis is important. However, you may not fully understand why this daily routine is so vital. So, here are four excellent reasons why you should remember to floss:
Periodontitis is a dental disease that affects the gums and bones supporting the teeth, causing them to loosen and fall out. The disease is usually caused by poor oral hygiene. It occurs when naturally occurring bacteria in the mouth act on leftover food particles and cause infection. Regular flossing can help to dislodge these food particles and reduce your chances of developing periodontitis.
A build-up of plaque can cause your teeth to look yellow and generally unclean. Of course, if you value your smile, you will no doubt be keen to ensure that it looks as white and bright as possible. To accomplish this feat you will need to tackle that plaque by flossing on a regular basis. You can even opt to use whitening floss if you want to really perfect your pearly whites.
Break down biofilm with
Perio
Renew
Unhealthy gums can dramatically impact more than just your smile. Learn more about this revolutionary new gel for gum disease.
sponsored ad
Bad breath can make you feel self-conscious and embarrassed. It may even cause your friends, family, and work colleagues to go out of their way to avoid getting close to you. Fortunately, flossing every day can have a huge impact on the freshness of your breath. By getting rid of the food particles between your teeth, you can prevent bacterial build-up and enjoy the benefits of fresh, clean breath.
Plaque build-up is a huge contributor to a host of dental issues, such as tooth decay and enamel loss. When these problems occur, you will need to visit your dentist to have them taken care of. If you would prefer to avoid getting a filling or having a tooth taken out, you should floss every day. Doing so will rid your mouth of plaque and keep your teeth nice and healthy. Of course, even if you are flossing every day you should still remember to visit your dentist for a regular cleaning and check-up.
As you can see, there are plenty of reasons why you should be flossing your teeth each and every day. Whether you want to freshen up your breath or get your teeth looking white and bright, taking some time out of your day to floss will help you accomplish your goal.
Oral Hygiene – Dental Health for Life
The best tools for maintaining your oral health and minimizing dental problems are a quality toothbrush, toothpaste, a roll of dental floss, approved mouthwash and good diet. Unfortunately, myths and folklore abound on how and what to use to best effect. This article cuts through the confusion with a winning game plan for oral health… Read Article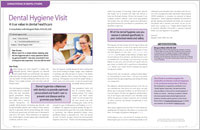 Dental Hygiene Visit
Each dental hygiene visit begins by reviewing your health history to identify issues that may necessitate special precautions during dental hygiene care to ensure your safety and to prevent medical emergencies… Read Article
Flossing – A Different Approach
Flossing is important but challenging for some – this approach may make your life easier! Research suggests that while most people will habitually brush their teeth, developing a flossing habit is still a bit more difficult. Flossing however, remains the best method for most effectively removing plaque from between the teeth where the brush won't reach… Read Article
Tagged: Flossing, Dental Floss, Oral hygiene, Periodontitis, Breath, Fresh Breath, Freshen Breath